name :
Non-Profit Organization Japan Accessible Tourism Center
office :
Osaka, Japan

요즘은 장애가 있거나 나이가 많은 사람들도 일본으로 여행을 많이 오고 있습니다. 그렇기 때문에 우리는 일본 내에서 어디든 쉽게 접근하고 편히 여행할 수 있게 배리어 프리 / 유니버셜 디자인 관광 센터들이 서비스를 제공하고 있습니다.

하지만 일본을 방문하는 외국 관광객이라면 대부분의 정보가 일본어로 되어 있기 때문에 정보에 관련된 접근이 쉽지는 않습니다. 그렇기 때문에 언어가 하나의 장벽이 될 수 있죠. JATC(Japan Accessible Tourism Center)는 비영리기관으로 다중 언어 서비스를 제공함으로써 장애를 가지고 있는 외국 관광객들을 도우려는 단체입니다. 우리는 당신에게 많은 도움(보호자를 섭외하거나, 예약문제, 여행팁 제공, 위급 상황 대처 등)을 주려고 노력하고 있습니다. 또한 단체 여행이나 스터디 투어를 원하시는 분들에 계획을 세우는 것도 돕고 있습니다. 모든 서비스는 무료로 제공하고 있습니다. 우리는 당신이 우리의 서비스를 유용하게 이용하고 일본에서의 여행을 즐기시길 바랍니다.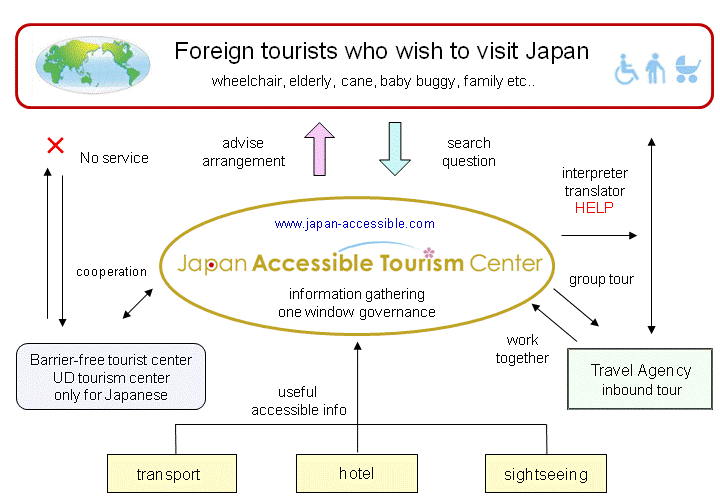 ---
Team Profiles



Kiji - president

wheelchair traveler visited over 100 countries.
writer / accessible consultant / motivational speaker

When I was 17 years old, my backbone was broken by rugby in high school.
It was a terrible sport accident T-11 spinal cord injury in 1990.
But I never give up my dream traveling the world.
personal website http://www.kijikiji.com/english/


Yu - English writing check



Hello! My name is Yu Sato. I have cerebral palsy. My role in the Japan Accessible Tourism Center is to check our leader's English translation on the website. Actually, I engage in translation work at a publishing company. I really enjoy learning English. I also like traveling abroad. So I would be happy if I can make your travel more comfortable and enjoyable by providing you with English information about wheelchair accessibility in Japan. Japan has many places worth visiting and accessible for wheelchair users. I hope that more and more people will enjoy traveling in Japan, regardless of their physical conditions.



Toshi - volunteer guide

One of JATC volunteer guide living in Tokyo central near Shinjuku.
I sometime work for foreign tourist with disability in Tokyo with my wife.

English skill is not high, but I like communicating with them
Easy attendant only, no professional physical assistance in toilet and hotel.
See you in Tokyo. I will guide you the best accessible way for fun.


Shigeki - volunteer guide

One of JATC volunteer guide living between Osaka and Kyoto.
Pharmacist. Hemiplegia. Crutch user.


Kamida - volunteer guide

One of JATC volunteer guide living in Nikko.
My wife is from Thailand. Therefore I speak Thai language.
Many years I help Japanese tourists with disabilities as a local volunteer.
Welcome to Nikko.
Mary - French translation

French lady who studied Japanese accessible tourism as our internship student.
 
Special thanks for Korean language translation by
Yun Seong Gyeol (윤성결)
Jung Hyun Min (정현민)
Kim Tae Hwan (김태환)
Busan University of Foreign Languages